Rate This Video





|
Rated 4.1
Carlos Lopez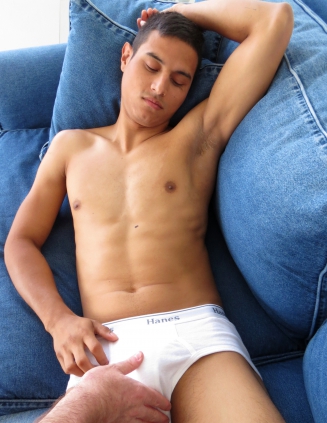 Welcome back to BoyGusher! In this update we have Carlos Lopez. As you can
see Mr. Hand found Carlos napping on the sofa in the living room just
napping in his tighty whities and of course Mr. Hand took full advantage of
the situation. He looked so good lying there in just his undies with his
smooth tanned body and his bulge in his undies that Mr. Hand went right to
work placing his hand on his chest and feeling his nipples and watching
Carlos's stiffening cock. Mr. Hand then worked his way down and felt the
bulge in Carlos's undies as he awoke to a great surprise, Carlos just layed
there and enjoyed having his cock played with. Carlos cock was now stiff and
pulsating so Mr. Hand sat down on the sofa and broke out the lube pretty
early to soak that cock and jerk him off slowly.  His body was responding
his hips were bucking and his chest was rapidly heaving as Carlos enjoyed
what was happening to his dick. Carlos's cock was so sensitive, that he was
about to cum so I stopped and oozed out a huge amount of pre-cum, it was so
hot that Mr. Hand couldn't resist I had to reach in and touch that hot
smooth body. Mr. Hand has some mad skills and Carlos is really enjoying that
jerk and stroke session. Mr.Hand then speeds up and starts playing with the
ball sack Carlos begins to pump his hips and moans as Mr. Hands hand strokes
Carlos's cock until he explodes his hot jizz load all over the place. Now
that is a boy gusher!